New York born artist, Josh Fayer, shatters the glass ceiling of traditional technique to create unexpected perceptions on canvases. His abstract works include a combination of acrylic paint, resin, ink, and often, other more unorthodox materials, which work together creating uniquely textured and layered work. His latest project being Room 57 Gallery is driven by the idea that art and design discovery should be organic, and that collectors should be able to personally engage with works before bringing them into their home. As such, the exhibition space welcomes visitors as a home would, rather than a traditional gallery, incorporating an eclectic yet clean curation of works - from paintings and photography to furniture, decor, and more. We are very pleased to welcome Josh Fayer for our fourth edition of Portraits.
1. Who is Josh Fayer
Today I consider myself to be a gallerist and an artist with many passions. I love music, fishing, snowboarding, hanging out with my family and friends, and most of all, having fun. I hope that I will continue to grow in this direction because I am comfortable with who I am today.
2. Please tell us about Room 57 and how it originated.
Room 57 is a gallery that brings community, comfort, and knowledge to the experience of viewing art. Focusing on 20th century and contemporary art & design, the gallery exhibits work in a an unconventional way by creating new conversations between the works that have not been heard before. The plan before the pandemic was for the space to be enjoyed by the public as if it were their own home. A place to come by during your free time for a glass of wine or coffee with a friend. The gallery was planning on having weekly artists' talks for both adults and children, as well as dinners and gatherings to activate the space. A place where people could learn from each other, where children could come explore and learn to appreciate art in a casual setting. Room 57 originated from a dream I had to open a gallery that creates an atmosphere that people actually want to spend time in. Hopefully soon this dream will be a reality once everything settles down.
Paintings by Dani Pantel and Brecht Wright Gander, 'Directions for Knowing All Dark Things Credenza', 2020


3. What do you look for in artists and designers that you work with?
Uniqueness- I aim to exhibit art and design that you will not see at your typical gallery or friend's home. The goal is for the buyer and viewer to leave with that special feeling. I like to mix the unexpected together and make it work as a cohesive whole.
MADRID, 1980 by artist Robert Motherwell hangs on the wall. "Y" Console and "Malagana Table Lamp by Aguirre Design. Photo by Asha Fuller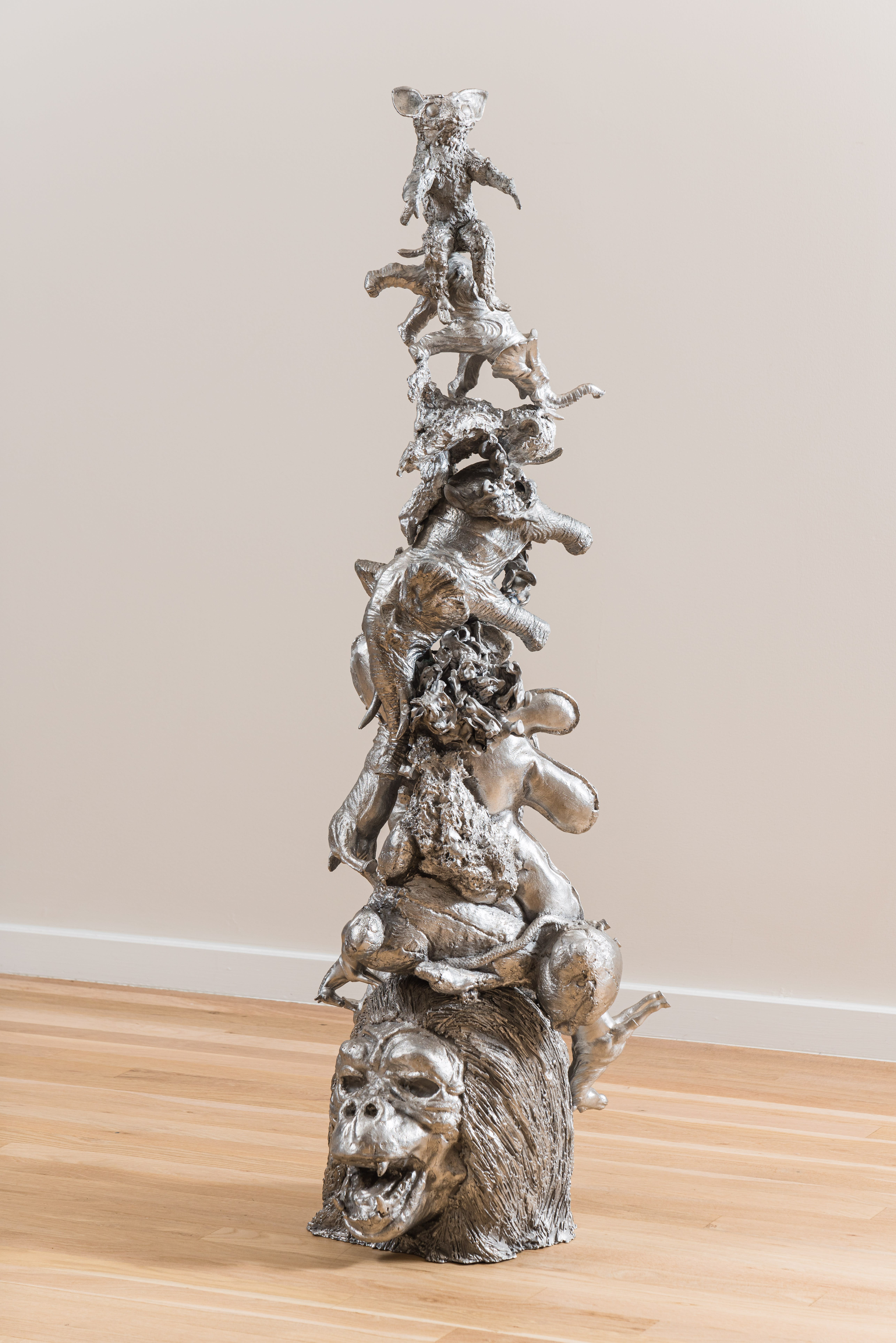 "Noah Candleholder" - 2017 by Campana Brothers.
Photo courtesy of Room 57 Gallery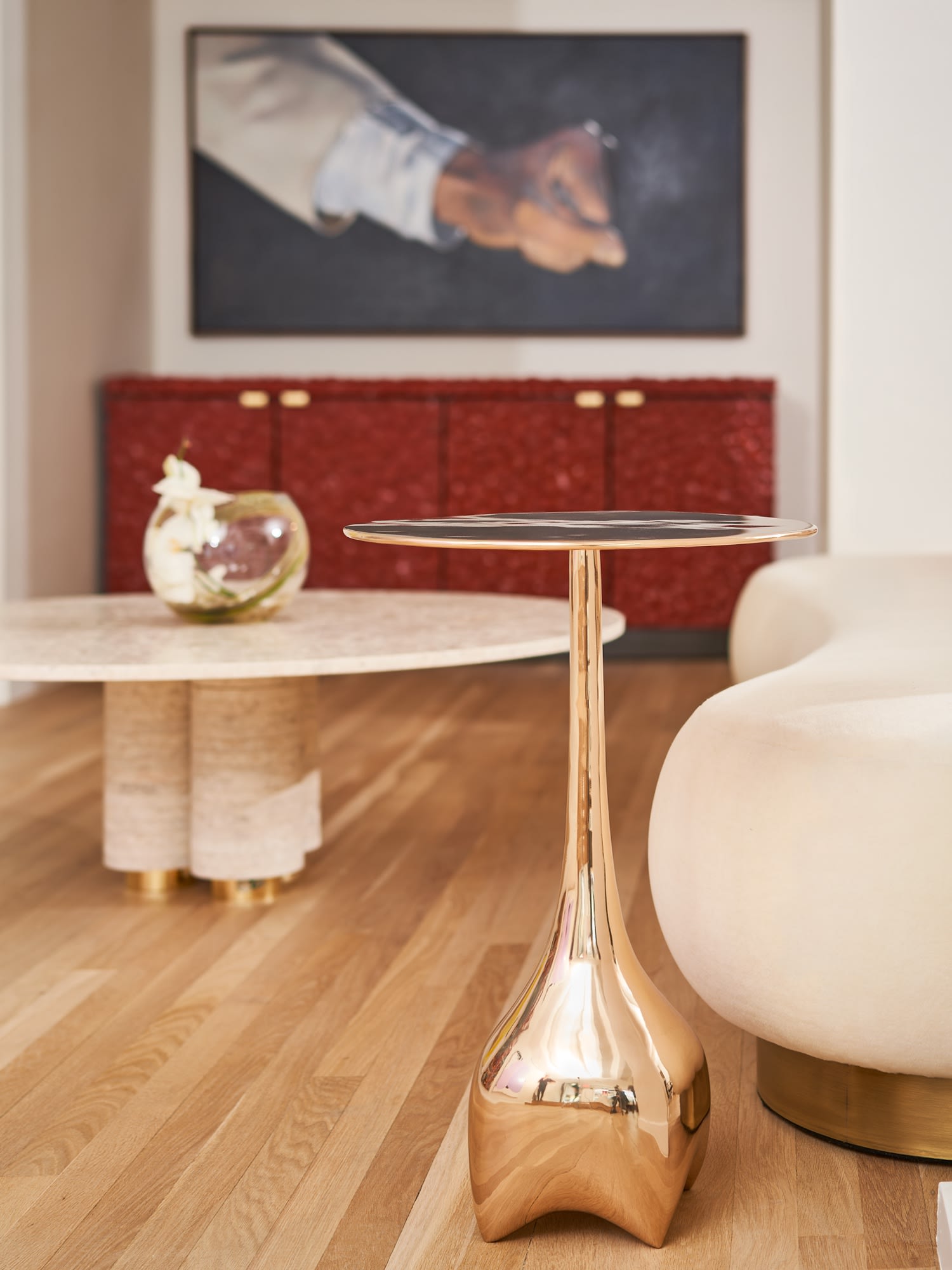 A piece by artist Oliver Clegg hangs on the wall. Homemaker's Credenza by Brecht Wright Gander, Aro Coffee Table and Belugo Curvo Sofá by Atra Form and Malagana Side Table by Aguirre Design. Photo by Asha Fuller.
4. A new or forthcoming project we should know about.
I am looking forward to announcing details about the upcoming exhibition this Spring.
5. You also owned a gallery in the Financial District. Can you tell how about this project vs. Room 57.
I was the director of the Nonfinito Gallery in the South Street Seaport for 3 years. This space focused on young emerging artists working in all mediums. The gallery was modeled after your typical white walled gallery space with 6-8 week-long exhibitions, each with really fun unique opening parties. Room 57 is not your typical gallery. It focuses on design as well as different styles of art. The exhibitions are based on what aesthetically makes sense in an organic way, a way in which you might see in somebody's home, we will also have house parties soon!
6. You are an artist yourself. How would you describe your work and creative process? What are some of your influences?
Abstract- I get my inspiration from the surrounding environment I am in along with the current mood I am feeling. I use a wide variety of materials, but most of my works have an aspect of layered resin and acrylic paint. I love playing with color and motion. I see my art as a reflection of myself and my emotions at the specific time it was made. I am not a conformist. I like to use materials in ways that are different from the manner they were intended to be used. I have always been inspired by Jackson Pollock's work and process.
" Fire on the mountain" by Josh Fayer.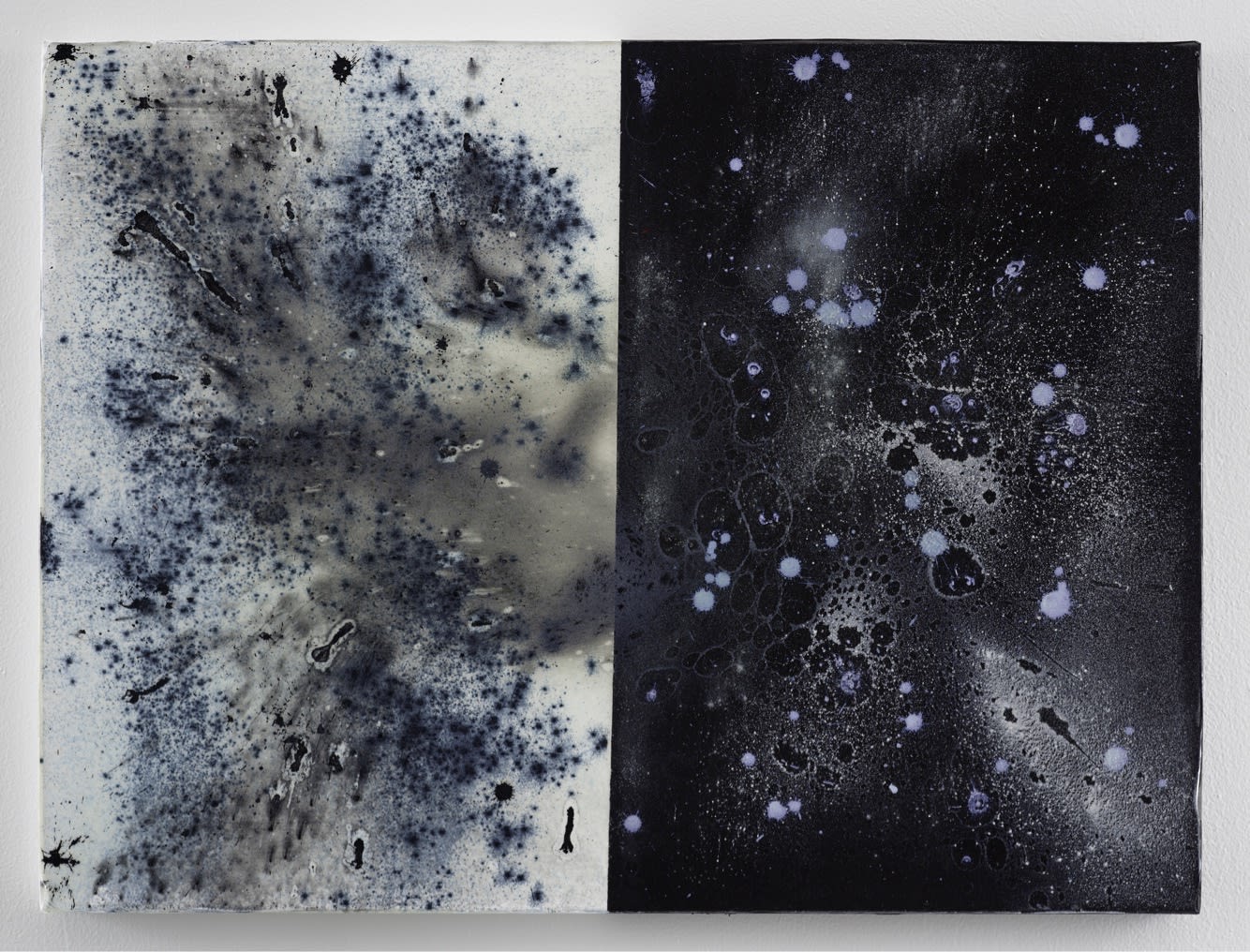 " The Other One" by Josh Fayer.
7. What is your first memory connected to the art world?
Being from New York City I was always surrounded by amazing art everywhere I looked. From traveling on the subways, eating in restaurants, to sledding in Central Park. It felt like I was growing up in an always changing canvas that I was dropped into. Which brings me to Olaf Elasson's "Weather Project" exhibition at the Tate in 2003. In this exhibition you became a part of the art and was not just canvases on a wall. This is where I first understood what conceptual art really is, and an exhibition that I will remember vividly for the rest of my life.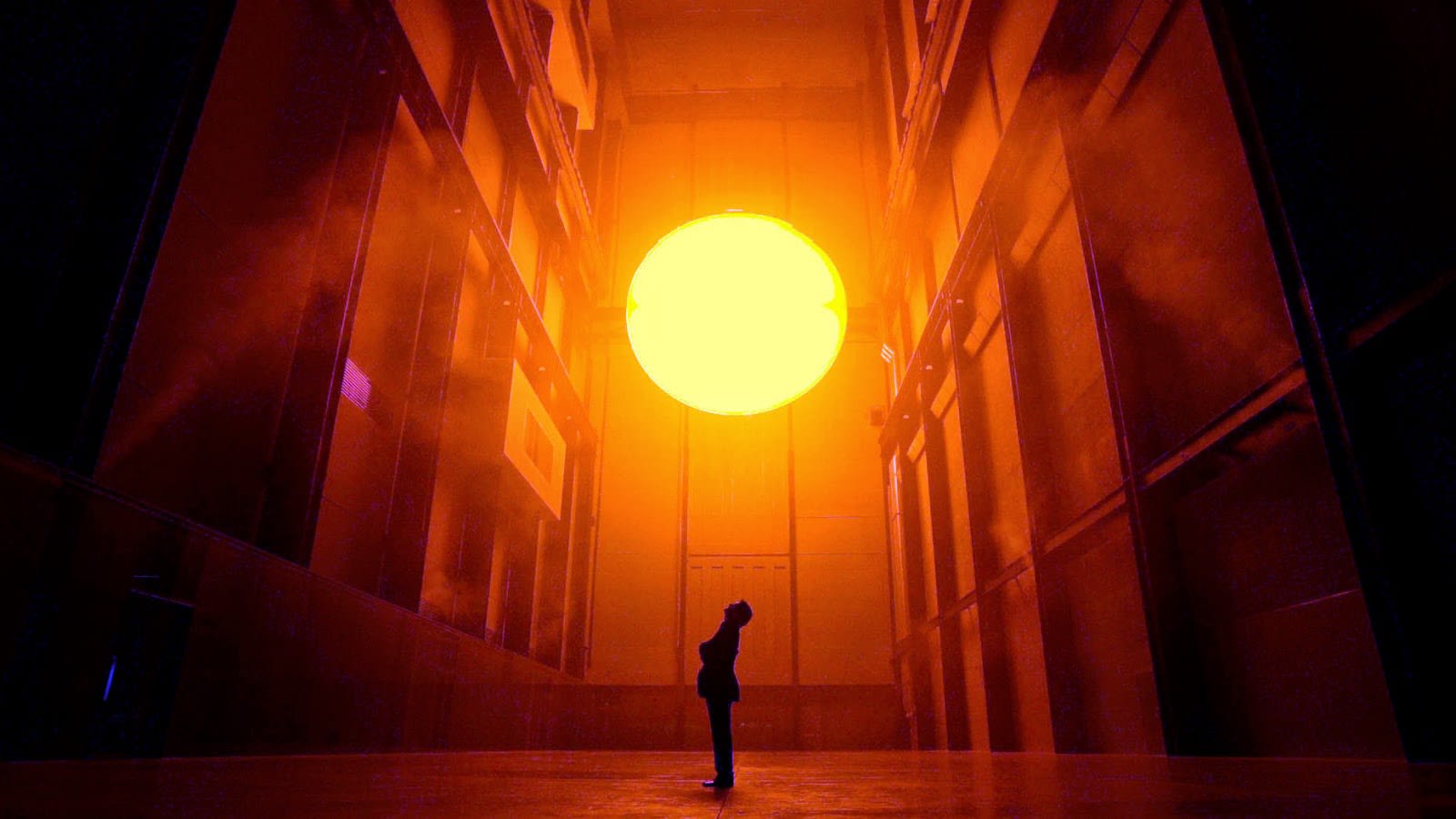 Olaf Elasson's "Weather Project". Photo courtesy of Diedrica
8. What advice would you give to beginning artists who would like to create sculptural design works?
Keep on keepin' on. Follow your heart and create what you drives you. There is no right or wrong to any feelings or emotions, and therefore, there is no right or wrong to the art you create.
9. Which designers have influenced you the most?
Isamu Noguchi. I love his use of organic shapes with rounded edges yet still looking sleek and sharp. His variety of work is also amazing.
10. Which contemporary designers do you appreciate?
Haas Brothers. I love their sense of humor that they incorporate into their work. It's fun, unique and beautiful - who doesn't like that?? I may be partial to them because they are brothers who work together as a team. I have a brother too, so I can totally relate.
11. If you could showcase the works of a very special artist, who would it be?
A question I often think about -I would combine Hieronymus Bosch with the Haas Brothers. I like to have art and design in every exhibition so it is not so two dimensional. This exhibition would be in a dimly lit old castle with the smell of fire coming from the corners and the muted sounds of distant whispers and screams coming from the speakers.
12. Could you describe a typical day of your work.
I am still trying to figure that one out. There is no typical day for me. I wear a lot of hats working alone at the gallery every day. So my day could be anything from being at the gallery fixing a light to delivering and installing works into a clients home and studio visits with artists.
February 22, 2021