Materials tell a story—one that encapsulates more than a composition of metals and elements. They hold centuries of history, of practical and aesthetic use, of memories and craftsmanship. Our materials become physical manifestations of our evolution, and can single handedly unravel and present us with new perceptions of the world around us.
The creation of all design, of form, function, and aesthetic, lies in material roots. It is only through honoring the material, the very thing that gives a piece life, that design can propose a narrative. Aguirre has always sought to uncover truths, to tell the story of a material through each piece we so carefully craft. To merge it's natural qualities with tried and true craftsmanship. That together, we expose the complex interconnectedness between human life and the natural resources we've used to build our homes and the things within them. Our process starts with a material, and becomes a modern relic for the stories like the one we're here to tell today.
HISTORY
In unmasking the bronze narrative, we began at its inception as known to modern man. The oldest bronze statue still in existence dates back to 2500 BCE. Titled Dancing Girl, the bronzed beauty helms from the Indus Valley Civilization. From the early days of casting bronze until now, over 4,500 years of applications have been told for artistic and functional purposes.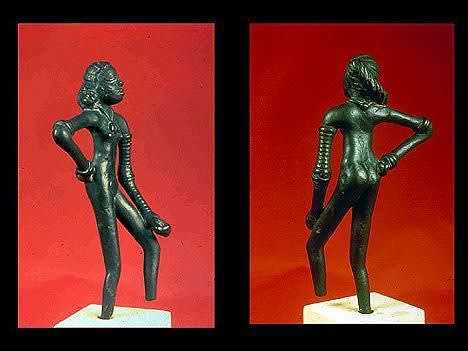 Dancing Girl from Mohenjodaro, belonging to the Harappan civilization
and dating back to c. 2500 BCE, is perhaps the first known bronze statue.
Some of the greatest civilizations in history, ones we often look on for aesthetic principles and inspiration, were drawn to bronze for its strength and flexibility. The metal alloy is composed of copper with smaller amounts of tin, zinc, and lead. For the first time, artists were able to stretch a material and have it stand unsupported. These advantages made bronze, historically speaking, the most popular material for cast metal sculptures. However it's use stemmed far beyond artistic representations of the world around it.
Bronze once made it possible to create and invent a wide variety of functional objects. Tools, furniture, weapons, armor, jewelry, and more, the story of bronze also tells the anthropological story of how our societies once lived their lives. Perhaps what solidified it's everlasting prominence amongst other materials, is that bronze is natural and recyclable. Former monuments could be melted and repurposed to make new works, inciting a perpetual chain of pieces that held previous lives within them.
Bronze Rod Tripodca. 1250-1050B.C Cypriot. Photo courtesy by
The Metropolitan Museum.
Whether hammered, melted or chiseled, the history of bronze shows us what people made to protect themselves, to dress themselves, to carve out tools for daily life. We can not only see what, but ask why, and in doing so, learn all the more about the history of mankind as told through one singular material.
While it's practical use can paint a picture of lifes' necessities, it's artistic use opens a chapter of cultural nuances. We cannot speak of the story of bronze without telling that of the lost-wax casting process. The process was first documented in Egypt and China before making its way to the Greeks and Romans. Lost-wax casting was used to make a countless amount of sculptural works in the image of gods, heroes, athletes, philosophers, and more that filled ancient sanctuaries. The affinity for bronze carried through the forthcoming eras. Artists continuously adapted the material to create new works and techniques carrying through to today.
Discobulos. Greek sculpture completed at the start of the Classical period, figuring a youthful athlete throwing discus, about 460–450 BC.
Artists
The story of bronze is brought to life by the artists and designers who have honored the material. Their process has influenced countless works of art, and furniture, and designs. Here are a few that have inspired our world at Aguirre.
Henry Moore
1898 - 1986
In his lifetime, Henry Moore created just over 1,000 sculptures. The artist rose to fame for his monumental bronze abstractions of the human figure. Sculptures so moving that his legacy would come to symbolize post-war optimism.
"A sculptor is a person who is interested in the shape of things, a poet in words, a musician by sounds."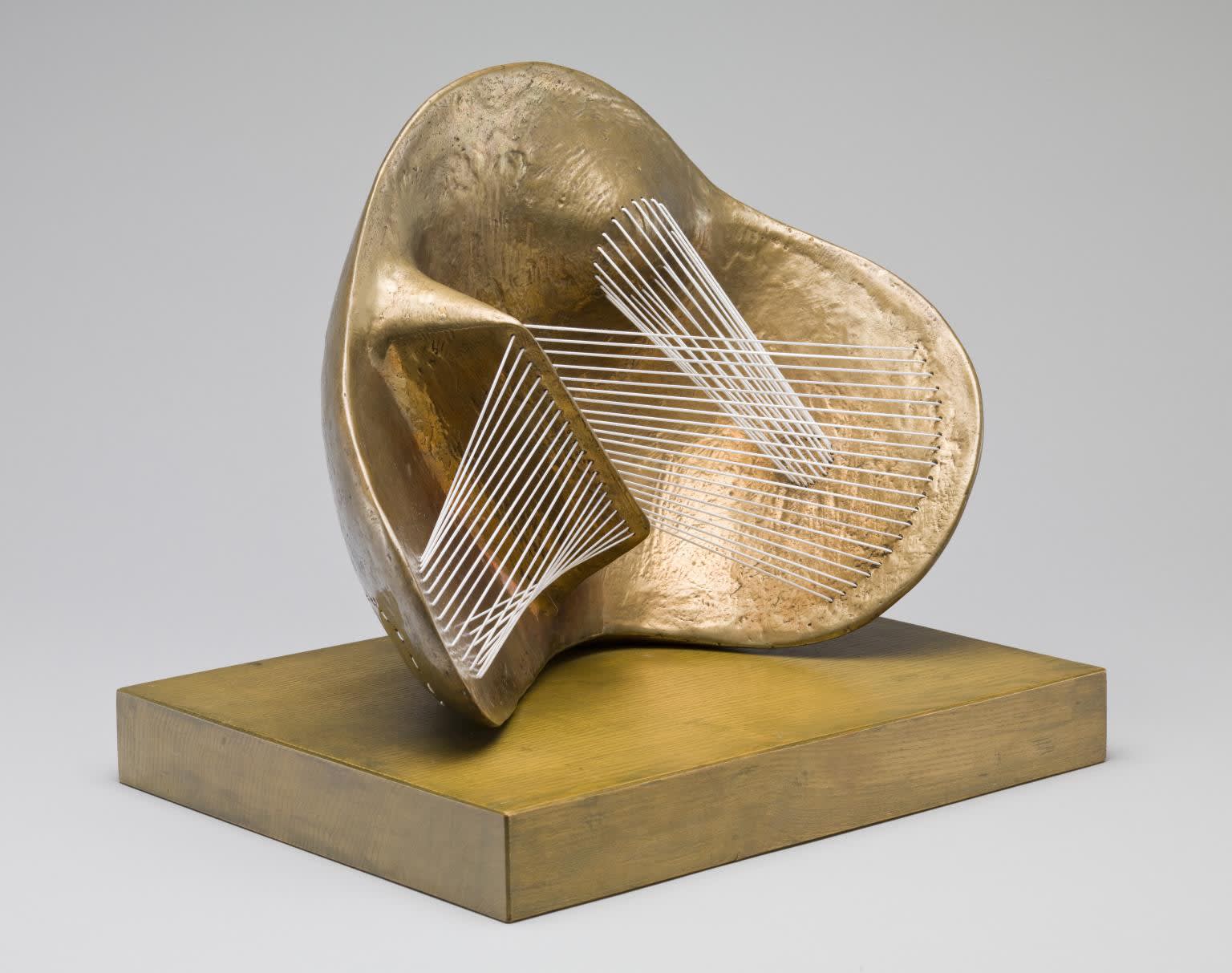 Henry Moore OM, CH, Stringed Figure 1938, Cast 1960. © The Henry Moore Foundation. All Rights Reserved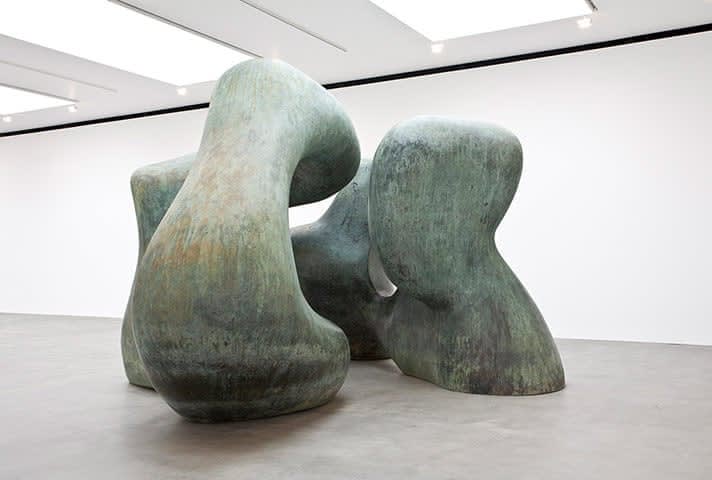 Moore's ''Large Two Forms'' from 1966 at the Gagosian Gallery in London Credit: Mike Bruce/Courtesy Gagosian Gallery
Lucio Fontana
1899 - 1968
A painter, sculptor, and theorist, Fontana's legacy lies in founding the movement we've come to know as Spatialism. Whether with his work in bronze or his powerful words, the artist appealed to the spirit of innovation through his materials and the world around him.
"Matter, color, and sound are the phenomena whose simultaneous development is an integral part of the new art."
"Concetto Spaziale, Natura". Photo courtesy of Bukoskis.
Alberto and Diego Giacometti
1901 - 1966 / 1902 - 1985

The Giacometti brothers were both artists in their own right, devoted to one another yet also very different. Diego, once assistant to Alberto who was acclaimed as one of the most important sculptors of the 20th century, rose to leave a legacy of his own for his fantastical sculptures.
"Once the object has been constructed, I have a tendency to discover in it, transformed and displaced, images, impressions, facts which have deeply moved me."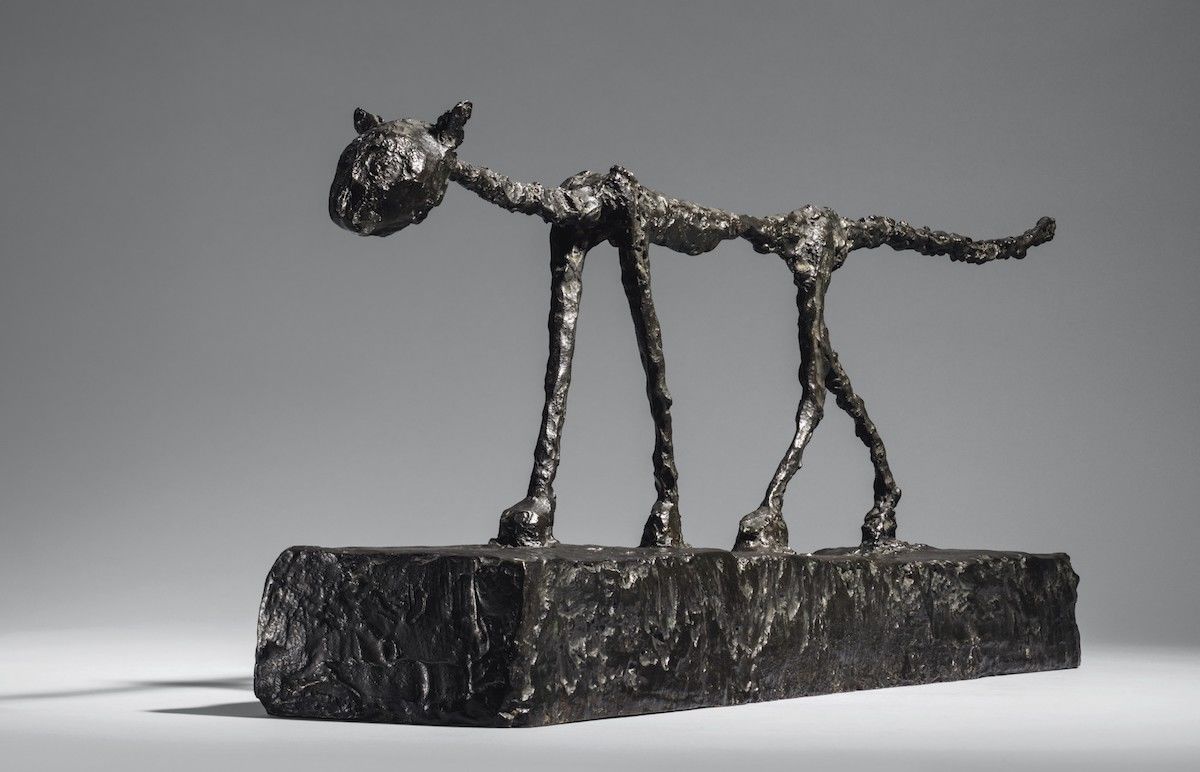 Alberto Giacometti, Le Chat, bronze with dark brown patina, conceived in 1951 and cast in 1955. Est. $14–18 million. Courtesy Christie's.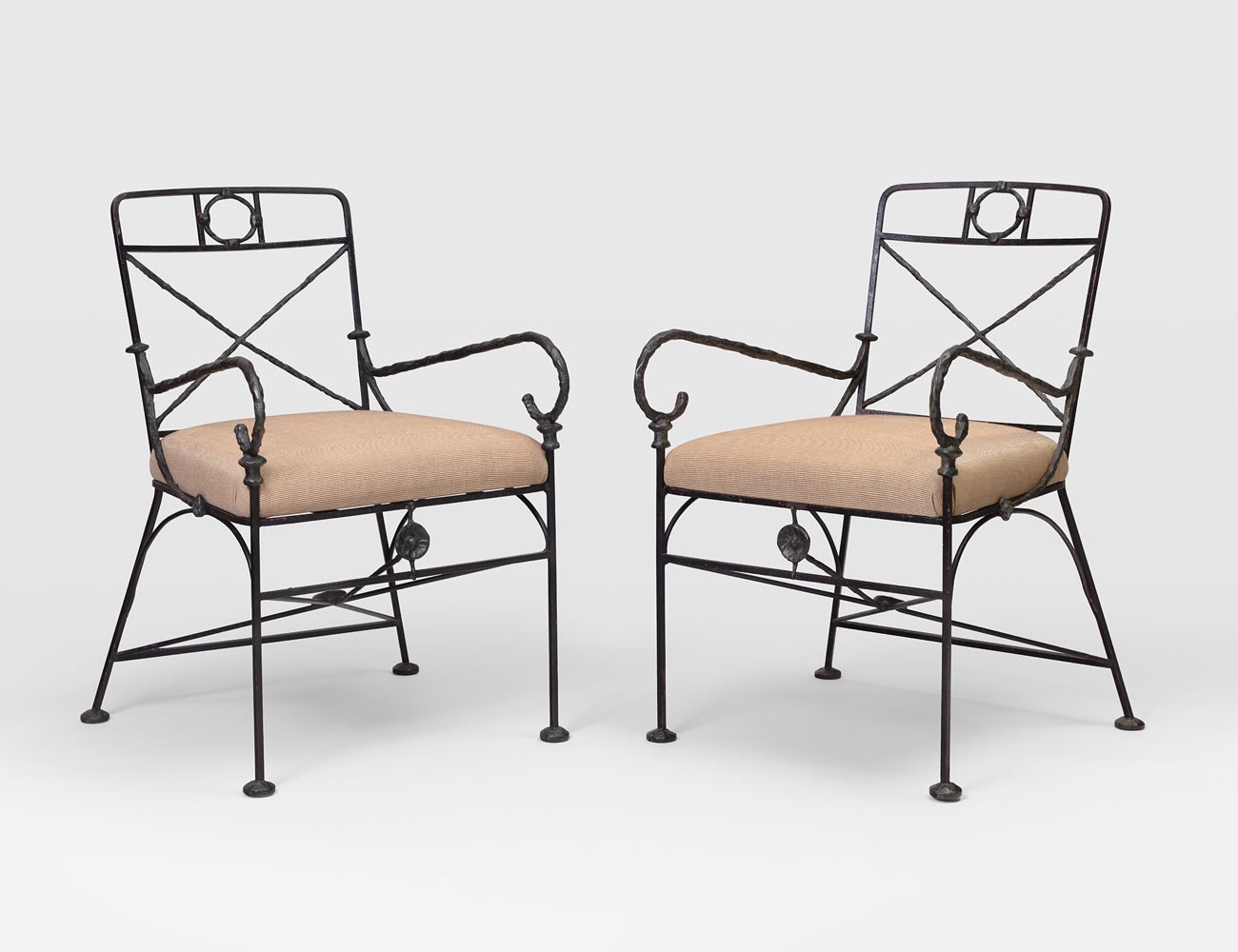 Diego Giacometti (1902 -1985) Rare pair of armchairs in patinated bronze, wrought iron, metal and fabric. Image courtesy of Galerie Jacques Lacoste.
Barbara Hepworth
1903 - 1975
The legacy of Barbara Hepworth lies in her exemplification of Modernism. While her name is still intertwined with the history and culture of St Ives, her work as an artist made her a major international figure, showing her work in exhibitions around the globe.
"The sculptor must search with passionate intensity for the underlying principle of the organisation of mass and tension - the meaning of gesture and the structure of rhythm."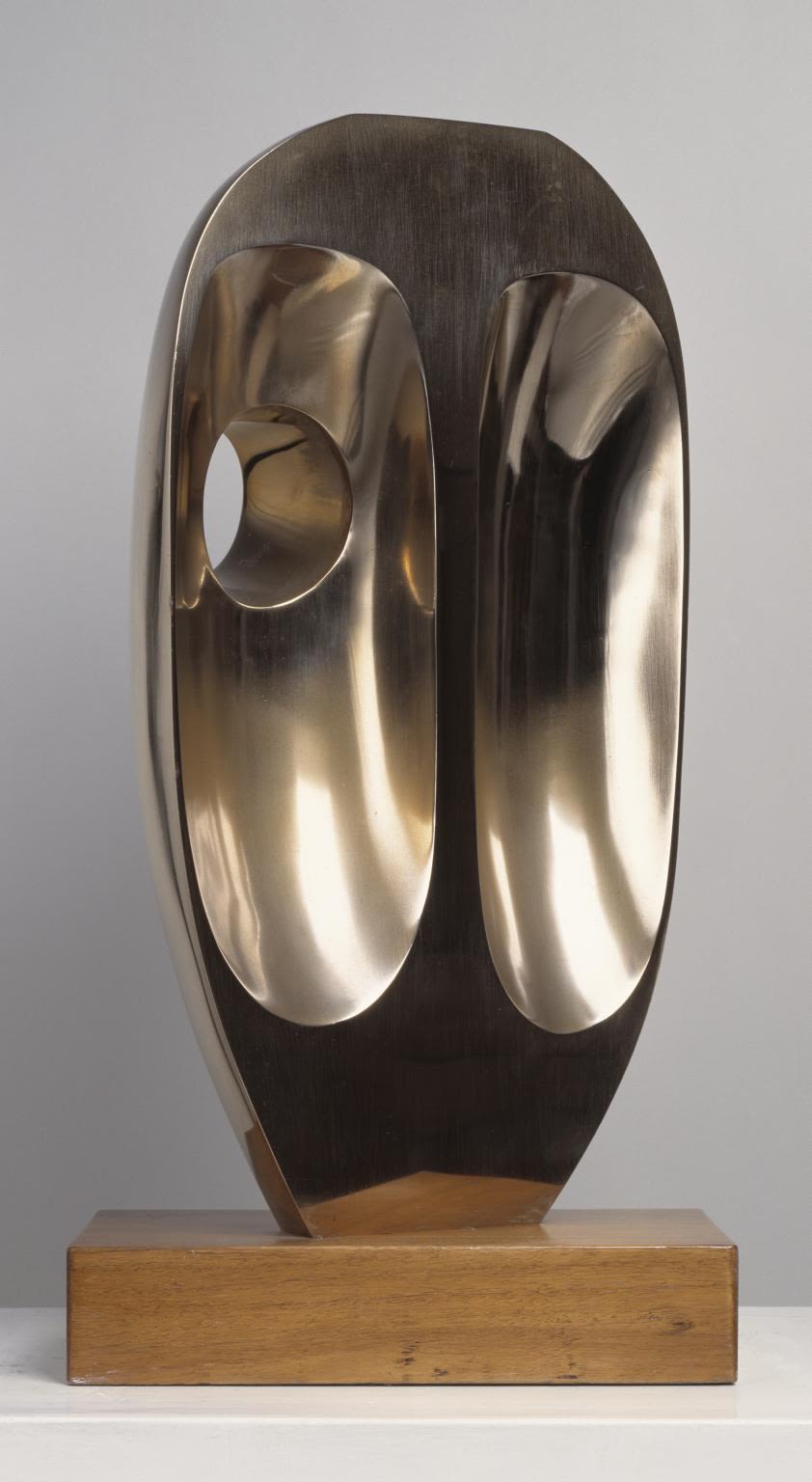 Vertical Form (St Ives) 1968, cast 1969. Courtesy of Tate.org
Louise Bourgeois
1911 - 2010
Never one to be pigeonholed—Bourgeois' legacy can't be defined in words. In her 98 years, her work told stories around womanhood, patriarchy, childhood, and more. One of the most important artists of her time, today she is commonly referred to as the reluctant hero of feminist art.
"Every day you have to abandon your past or accept it, and then, if you cannot accept it, you become a sculptor."
Louise Bourgeois, Maman, 1999, cast 2003, bronze, stainless steel, and marble, National Gallery of Canada, Ottawa © The Easton Foundation. Photo: NGC
Constantin Brâncuși
1876–1957
Legendary Romanian sculptor, painter and photographer known to be one of the founding fathers of modern sculptures and 20th-century modernism. A true artist who paved the way for many generations to come and mastered the use of bronze in many ways, shapes and forms.
"Simplicity is not an end in art, but we usually arrive at simplicity as we approach the true sense of things."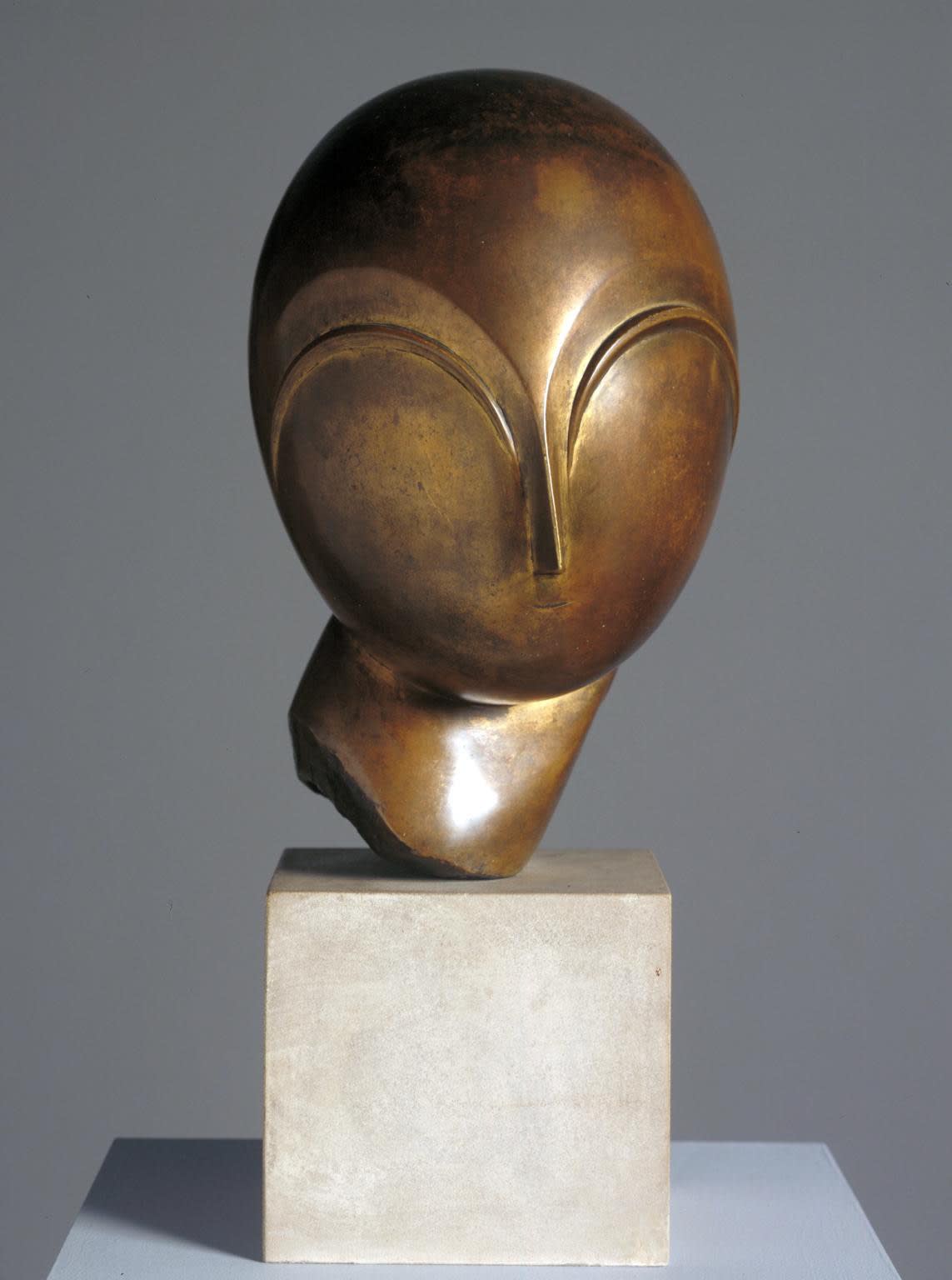 Danaïde c.1918 © ADAGP, Paris and DACS, London 2021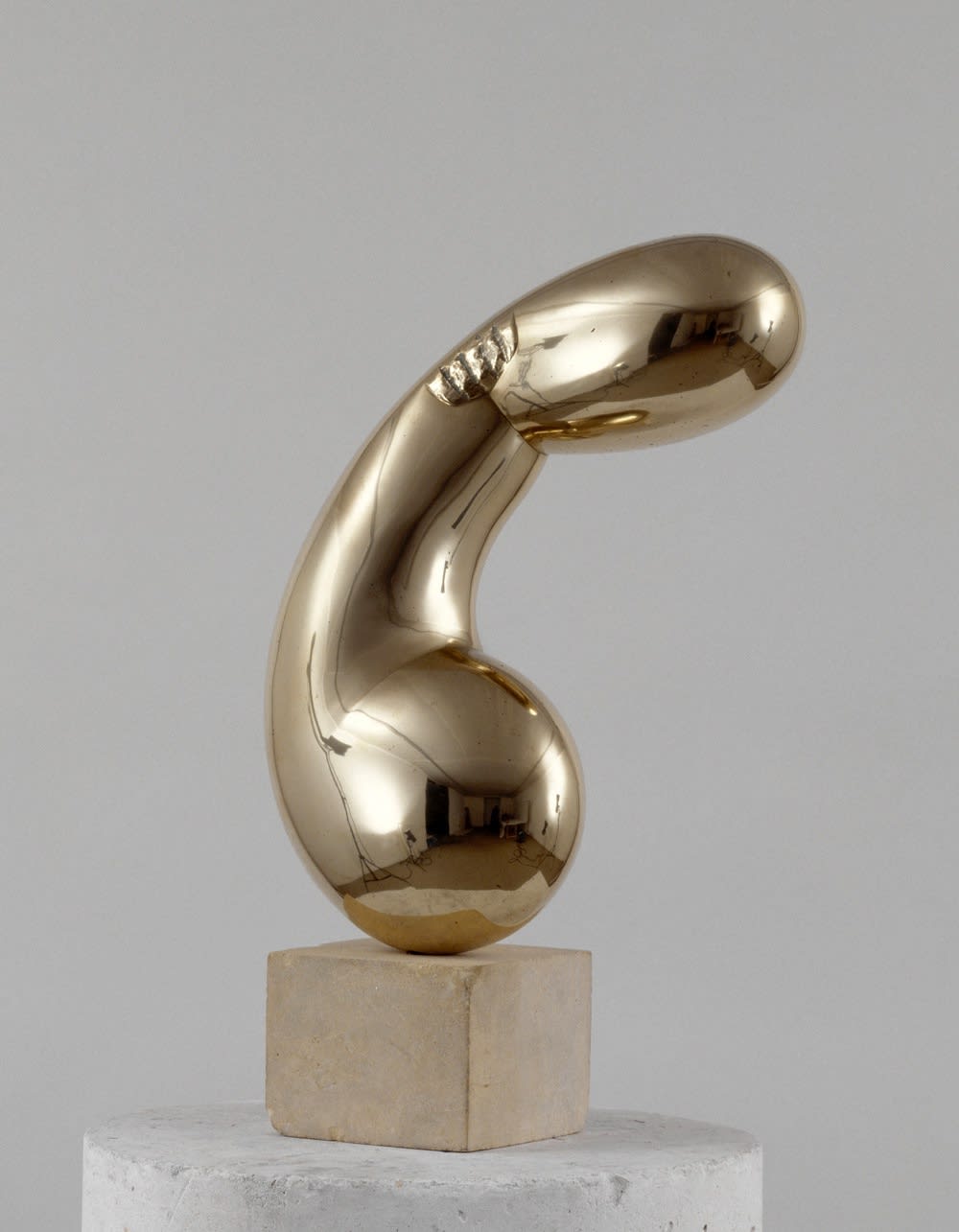 Princesse X (Princess X) Collection Centre Pompidou, MNAM-CCI, Paris
© 2013 c/o Pictoright Amsterdam Photo: Adam Rzepka
AGUIRRE
For over 25 years Aguirre Design has worked to forge a connection with the past and the future. Design is not just what we do, it's how we distill and present life's biggest questions. Each one of our pieces is hand-crafted to bring materials and tales to life. The works you'll see here, all tell a unique story threaded together by our admiration and respect for bronze. They are pieces designed to incite conversation, to relive historical moments, to highlight a material's natural beauty and inspire elegance through modern practices. We're here to honor the material, nothing more.
Malagana Collection
In creating the Malagana Collection, we wanted to tell the story of our own roots. Coming from the Malaga region of Colombia, we have always been inspired by the artisans and history of our home. We found ourselves drawn to a Pre-Columbian vase which was commonly used amongst the indigenous people of our region. We made the artefact in cast bronze, and told the rest of the story through the collection you'll see here.
Malagana Collection 2020, by Aguirre.
Malagana Dining Table
The bronze base and smooth black patina adds a natural elegance to our dining table. The tabletop is entirely wood, finished with dark and black matte stain. Once stained, we apply a wire brush that heightens the rich grain unique to each piece. The slender profile of the tabletop tapers into a thin edge that amplifies the appearance of the large center and ties it together.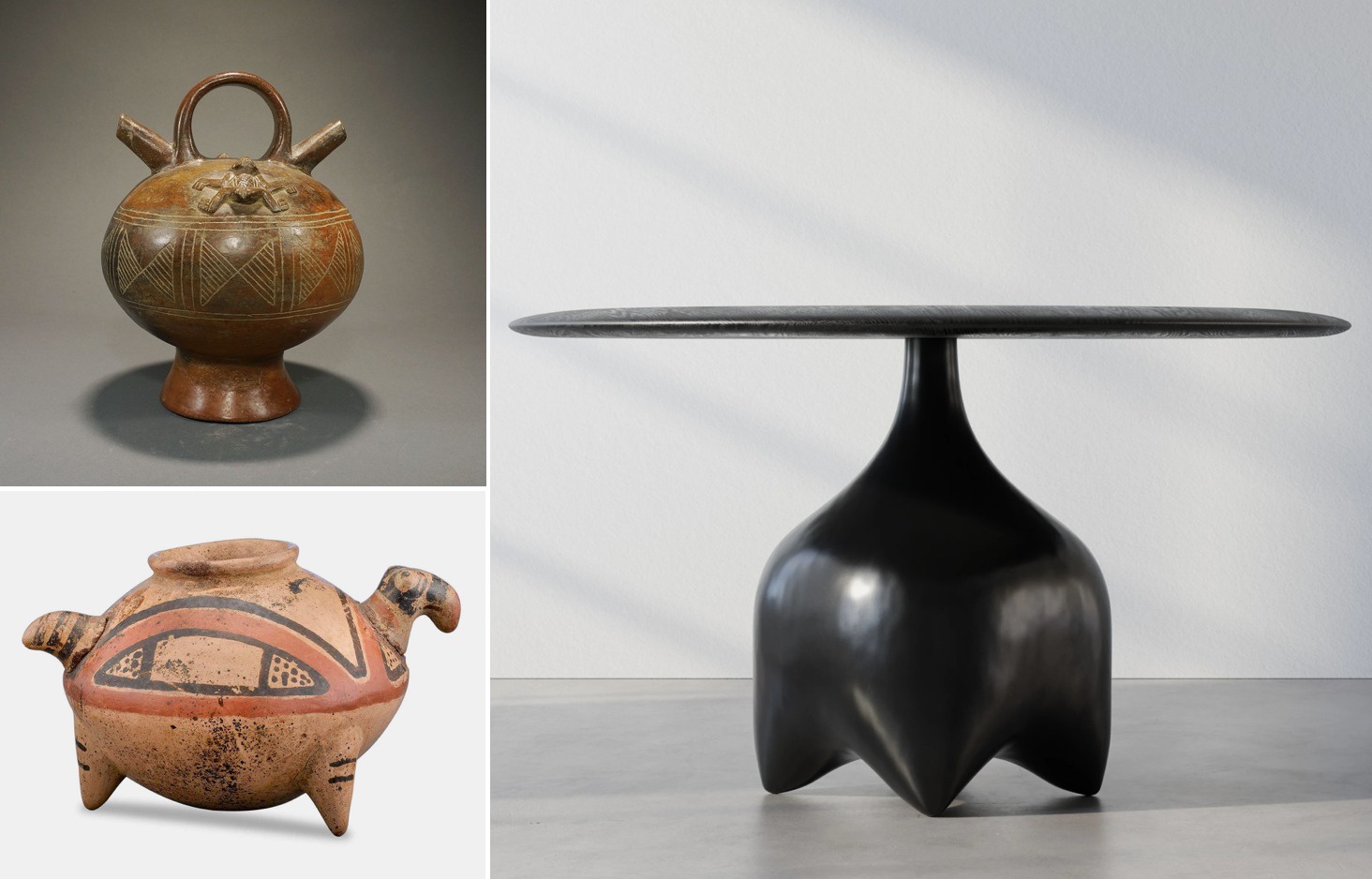 Malagana Dining Table, 2020 by Aguirre.
Malagana Side Tables
Our side table comes to life as a lustrous cast bronze with a matte finish. It's matching cast bronze top embodies a wavy, silky surface that is as smooth as it is textured. These side tables tell a wondrous story together of contrast, color, and size.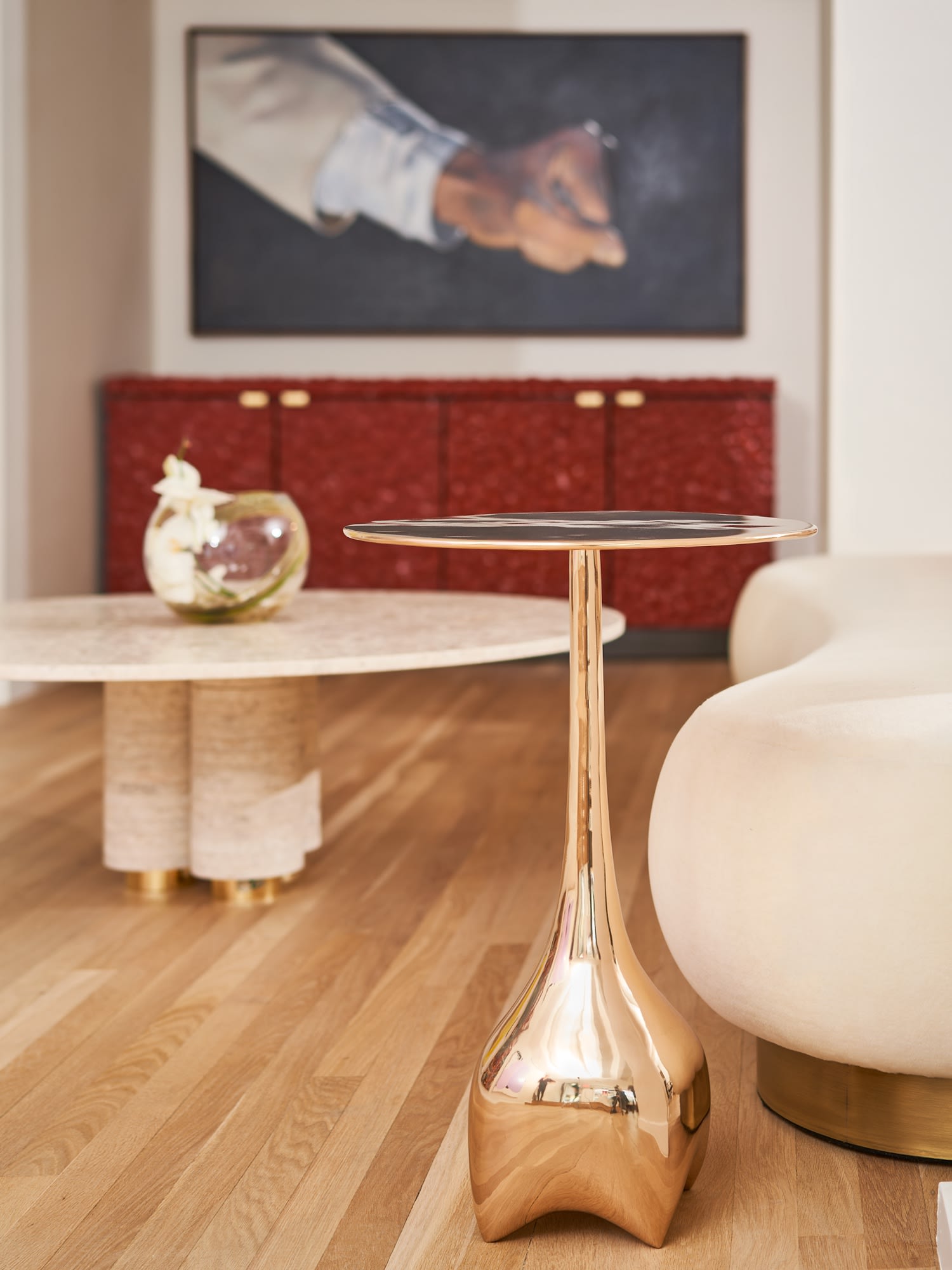 Polished Malagana Side Table, 2020. By Aguirre
Malagana Floor Lamp
Our floor lamp is a modern approach to the ancient, unchanged lost-wax process. The durable cast bronze conveys an organic and resilient appearance, and casts bright, lively light through a soft linen shade. It is touched with a dark bronze antique patina, making it a versatile piece for any room.
Malagana Floor Lamp, 2020. By Aguirre
Malagana Table Lamp
The smooth finish on our table lamp is a dark bronze antique patina, illuminated through a soft linen shade. It's strong, square base leads upward to rounded curves making an open, airy path for its warm light. It lives to brighten and accentuate the narrative of any room.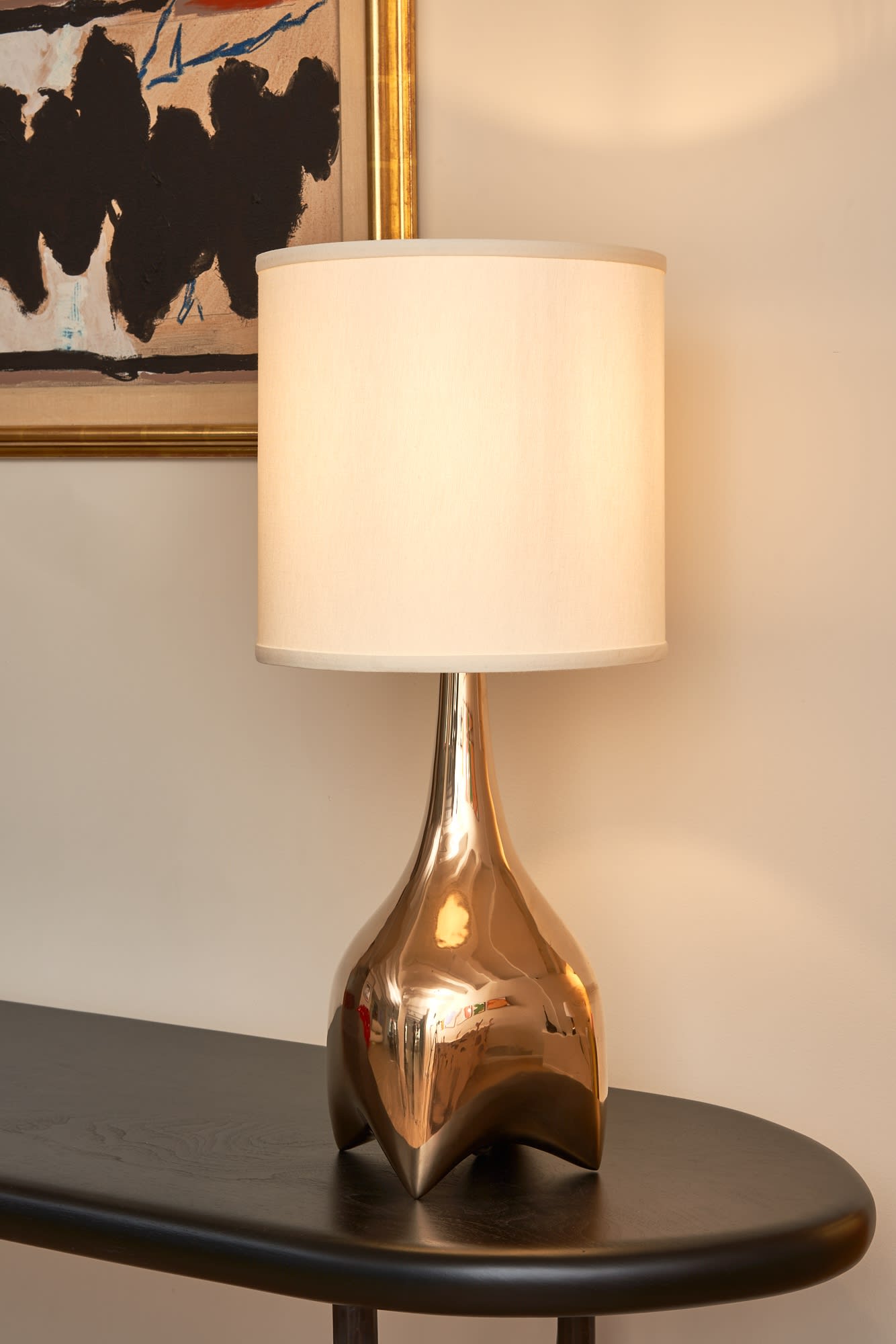 Polished Malagana Table Lamp, 2020. By Aguirre
Kaiaman Desk
This bold and sculptural desk draws from the elements. Formed through the magic of fire, the desk begins with two thick, cast bronze pedestals that are lightly treated with antique patina and polished for a raw glow. Rising up, the bronze meets the desk's boomerang shaped hardwood surface, which is carved and smoothed from solid walnut and finished with natural oil.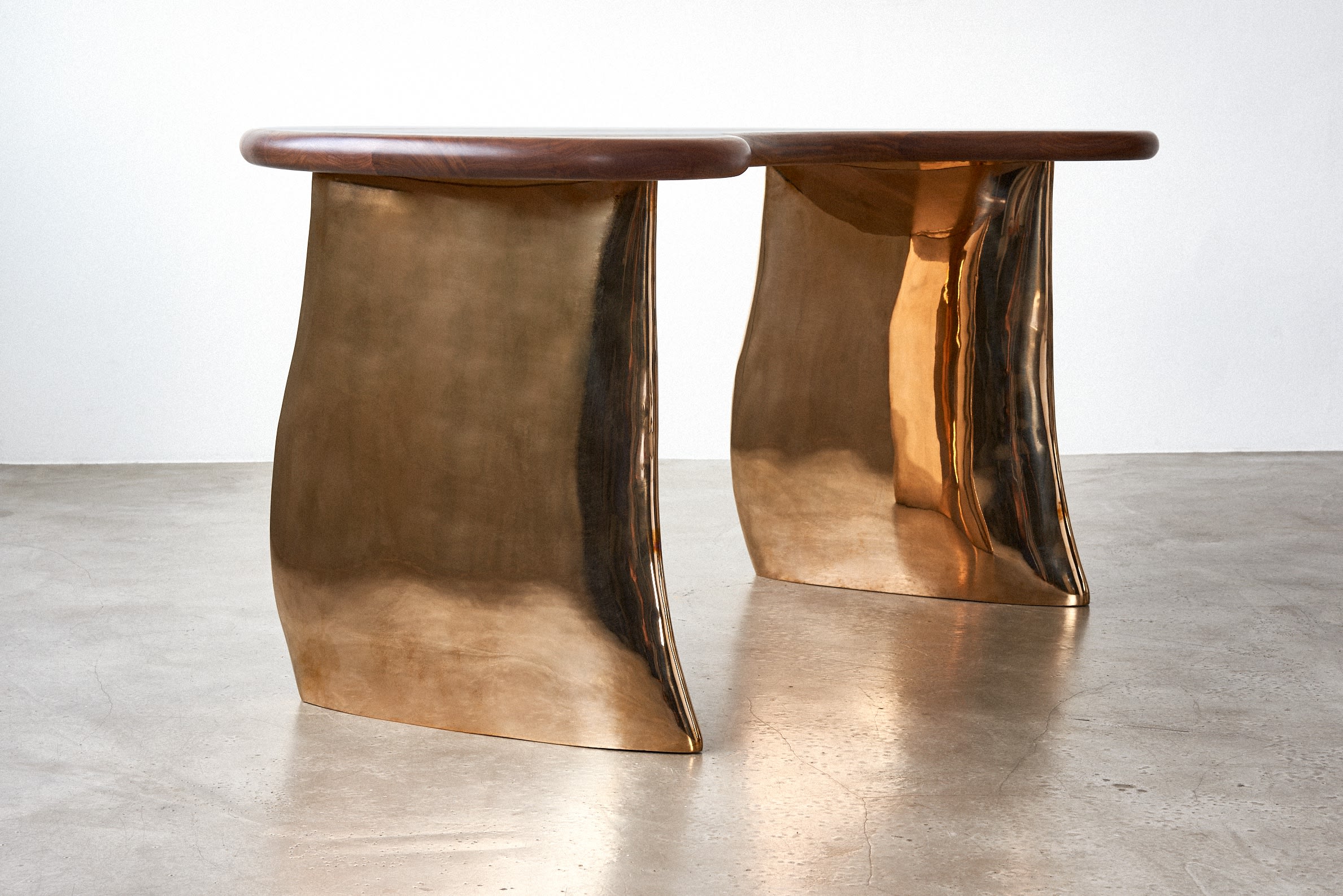 Kaimana Desk, 2019. By Aguirre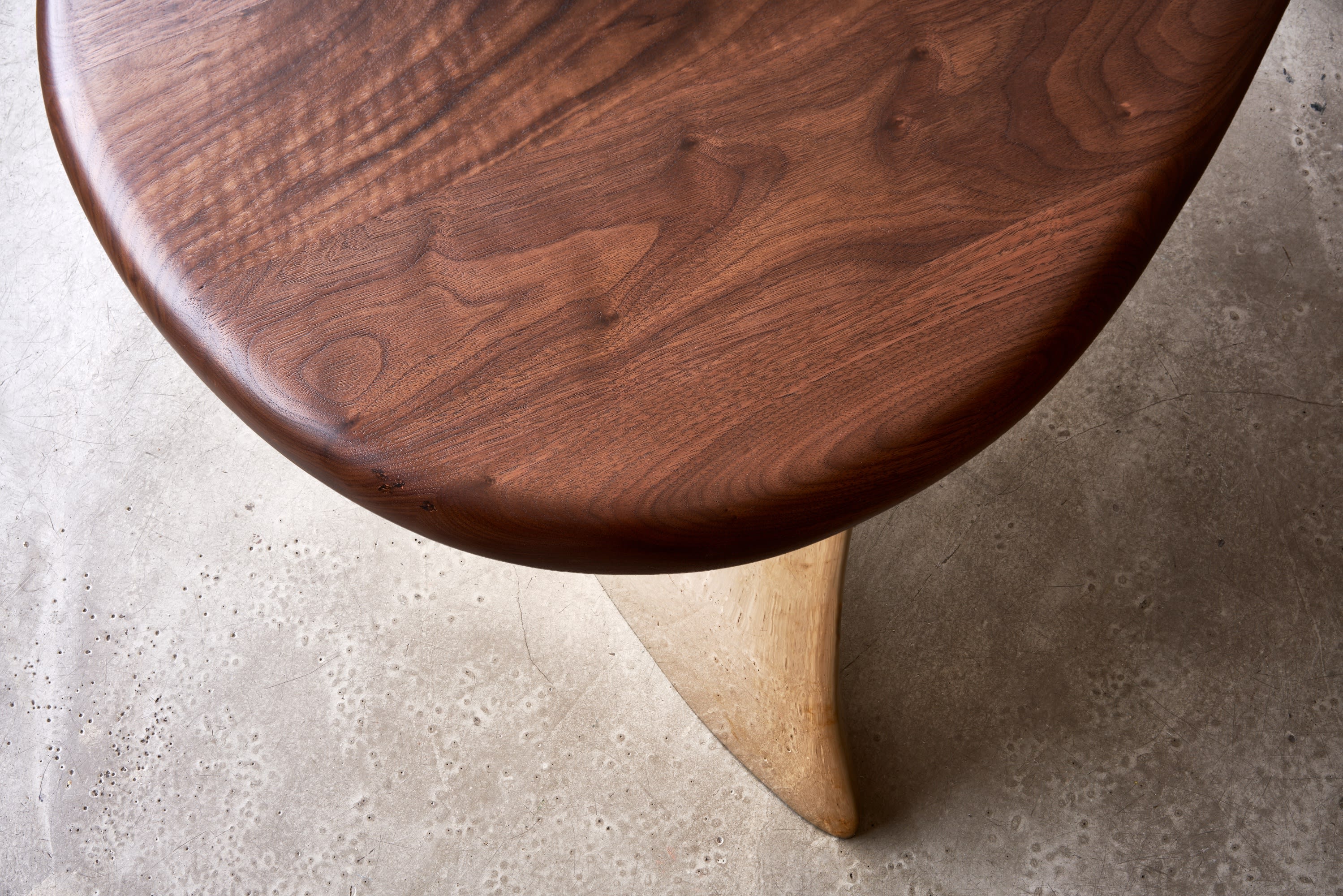 Kaimana Desk, 2019. By Aguirre
Stella Lamp
The recess in our lamp's cast bronze base brings a multitude of sights–and sights unseen. It's slender design is highlighted by hand-applied dark bronze or light antique patinas. It is an example that even the simplest of things might express something distinct and beautiful, if only seen from a different perspective.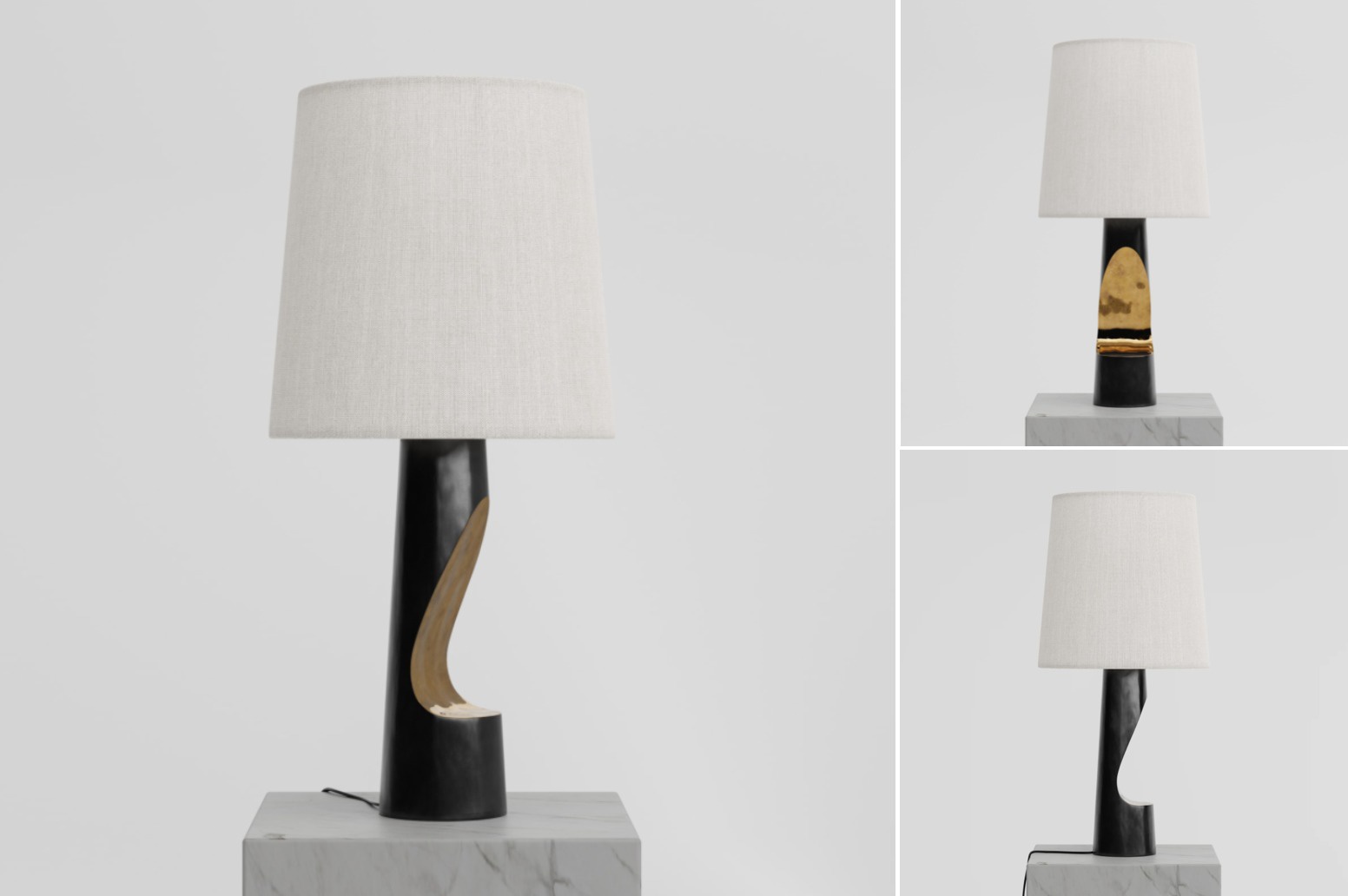 Stella Lamp, 2020. By Aguirre
Our world at Aguirre is dictated by exceptional materials and distinctive lines. It's ingrained in our being. Together as father, sons, and artisans we've told the story of bronze in words as a glimpse into the stories we're telling in our bronze pieces. It has, and always will be, our honor to create pieces that become custodians for thoughtfully designed stories.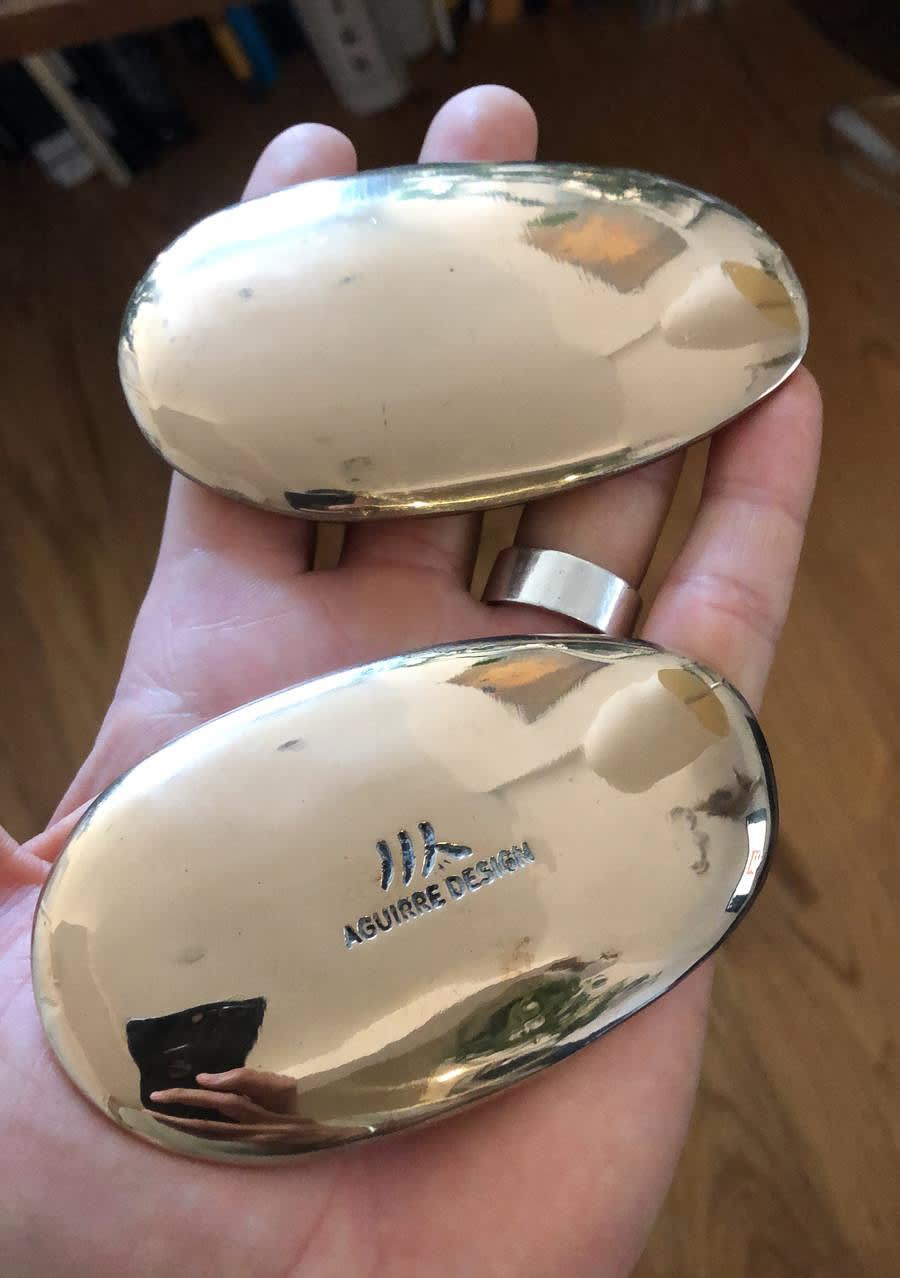 Bronze Samples, 2020. By Aguirre
Written by: Natalie Stoclet.
March 31, 2021